Description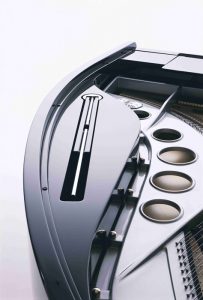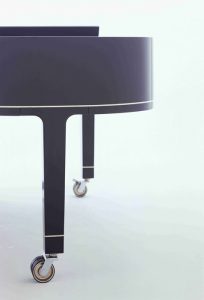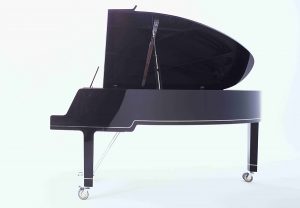 Ambiente – a concert grand of new design without any twirls whatsoever,
but with a 230cm long case flowing in a single sweep into a bend, shaped like a parabola.
The sides of the keyboard softly cross over into the bevelled grand´s front. Its closed lid fits perfectly into this form.
The difference between the outside appearance and the inside metal frame creates a space in the form of an ellipse in which the lid´s supports have been fitted and which are adjustable in height and angle. (Right photo)
Polished stainless steel accords a brand new profile to the pedal bar: light and lucent throughout "This new grand should be all-over elegant and softly rounded, of flowing design and without any twirls whatsoever" – Peter Maly
The feet have been integrated into a floating architrave which has significantly marked its new silhouette. This new line of architrave stands out with its chromed profile recurring at the foot´s lower end. All fittings and castors are chromed.
When opened, the keyboard´s lid lies flush with the bevelled niche providing a convincing solution to its form. Many of such innovations in construction and design have created the new
concert grand´s appearance: "Ambiente".