Description
Featuring our astonishing Millennium III Hybrid upright piano action with real damper mechanism, SK-EX Rendering piano sound engine, and the unique TwinDrive soundboard speaker system, Novus NV5S delivers true acoustic piano authenticity within a stunning, ultra-slim instrument.
Millennium III Hybrid upright piano action

Millennium III Hybrid delivers all of the benefits of a premium Kawai upright piano action within a digital instrument. This feat of engineering allows pianists to enjoy the unmatched feeling of playing an acoustic piano, regardless of the time of day, or the size of their home.
Unprecedented realism

Novus NV5S's beautiful chrome plated pedals are sourced from the same 'K' series instruments as the premium Millennium III keyboard action. Moreover, in addition to featuring a full acoustic piano action, the NV5 also incorporates a real acoustic piano damper mechanism.

More than 80 premium sounds

The spirit of the Shigeru Kawai SK-EX concert grand piano is at the heart of Novus NV5S. Each world-class instrument is hand-crafted by Master Piano Artisans (MPAs), utilising the finest available materials to ensure optimum touch, tone, and artistic expression.

Features for the future

While Novus NV5S's core features are unquestionably derived from an acoustic piano, the instrument neatly incorporates various additional technologies that provide the modern conveniences of a premium digital piano.

Premium design detail

The Novus NV5S's stunning ebony polish cabinet is crafted in the same piano production facility as Kawai's 'K' series upright instruments, ensuring exceptional build quality and an immaculate mirror-like finish.
DIMENSIONS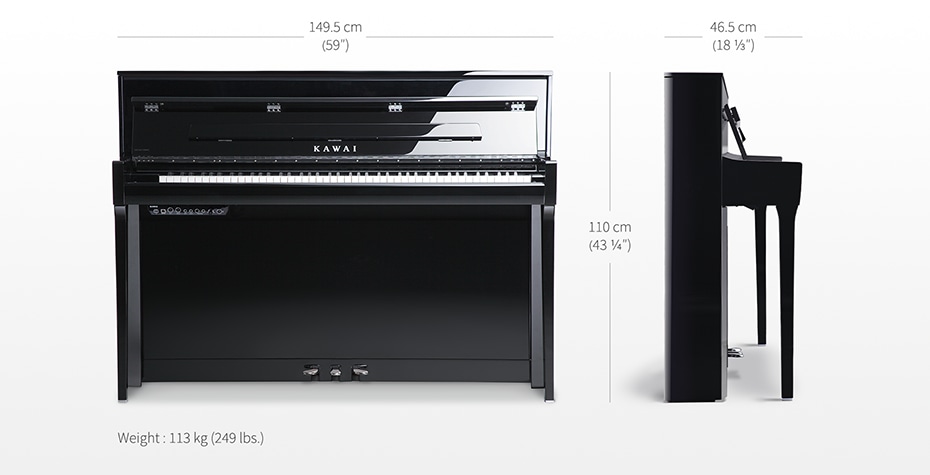 SPECIFICATIONS
Keyboard
・ Millennium III Hybrid upright piano action
– 88 wooden keys
– 88-key graded ABS hammers
– IHSS contact-less optical sensors
– Upright piano damper mechanism
Pedal
– Damper (upright piano damper mechanism with half-pedal support)
– Soft
– Sostenuto
Piano Sound
・ SK-EX Rendering
– 88-key multi-channel sampling
– SK-EX recording・ Harmonic Imaging XL (HI-XL)
– 88-key stereo sampling
– SK-EX, SK-5, EX, K-60 recording256 note maximum polyphony
Piano Resonance
・ SK-EX Rendering: Resonance Modelling
– Damper Resonance
– String Resonance
– Undamped String Resonance
– Aliquot Resonance・ Harmonic Imaging XL: Acoustic Rendering
– Damper Resonance
– String Resonance
– Undamped String Resonance
– Cabinet Resonance

Piano Adjustment

・Virtual Technician (21 parameters)
– Touch Curve (incl. User Touch Curve)
– Voicing (incl. 88-key User Voicing)
– Damper Resonance
– Damper Noise
– String Resonance
– Undamped String Resonance
– Cabinet Resonance
– Key-off Effect
– Fall-back Noise
– Hammer Noise
– Hammer Delay
– Topboard Simulation
– Decay Time
– Release Time
– Minimum Touch
– Stretch Tuning (incl. 88-key User Tuning)
– Temperament (incl. User Temperament)
– Temperament Key
– Key Volume (incl. 88-key User Key Volume)
– Half-Pedal Adjust
– Soft Pedal Depth* Available parameters may vary depending on selected sound.
* 'User' parameters require system software v2.08 or later.・Virtual Technician Smart Mode (10 presets)
No. of Sounds
SK-EX Rendering: 10 rendering characters
Harmonic Imaging XL: 90 voices
Reverb
SK-EX Rendering: Ambience (10 types)
Harmonic Imaging XL: Reverb (6 types)
Brilliance
✔
Other Effects
24 types
Speakers
TwinDrive Soundboard Speaker System
8 cm x 4 (top speakers)
2 cm x 2 (dome tweeters)
Output Power
130 W
Headphone Enhancements
Discrete SpectraModule™ headphone amplifier
Spatial Headphone Sound
Headphone Type
Headphone Amplifier
Display
5″ LCD touchscreen (480 x 800 pixels)
Key Cover
Upright piano fallboard with Soft Fall system
Music Rest
Upright piano type (fixed position)
Product
Size & Weight
Width
149.5 cm (59″)
Depth
46.5 cm (18 1/3″)
Height
110 cm (43 1/3″)
Net Weight
113 kg (249 lbs.)
Packing
Size & Weight
Dimensions
165.5 (W) x 61.5 (D) x 121 (H)
* Packed in a pre-assembled state
Gross Weight
137 kg (without bench)
144 kg (with bench)
Available Finishes
Ebony Polish
Basic Functions
Dual
Split
Four Hands
Transpose
Tuning
Low Volume Balance
Favorite
Internal Songs
Sound Demo
39 songs
Piano Music
29/42 songs *
Concert Magic
176 songs
Lesson Songs
Burgmüller 25 (25 Etudes Faciles, Opus 100)
Czerny 30 (Etudes de Mécanisme, Opus 849)
Czerny 100 (Hundert Übungsstücke, Opus 139)
Beyer 106 (Vorschule im Klavierspiel, Opus 101)
J.S. Bach: Inventionen
Sonatinen Album 1
Chopin Walzer (Chopin waltzes series)
Chopin Etudes (Opus 10)
Alfred's Premier Piano Course Lesson 1A
Alfred's Premier Piano Course Lesson 1B
Alfred's Basic Piano Library Lesson Book Level 1A
Alfred's Basic Piano Library Lesson Book Level 1B
Alfred's Basic Adult Piano Course Lesson Book Level 1
Internal Recorder
Total Memory
approximately 90,000 notes
No. of Songs
10 songs
Parts
2 parts
Metronome
Time Signatures
1/4, 2/4, 3/4, 4/4, 5/4, 3/8, 6/8, 7/8, 9/8, 12/8
Drum Rhythms
100 patterns
Bluetooth *
Bluetooth (Ver. 4.1; GATT compatible)
Bluetooth Low Energy MIDI Specification compliant
Bluetooth Audio with aptX support
USB Audio Recorder
Record/Playback
MP3
WAV
SMF (Playback only)
Other Functions
Overdubbing
Line In recording
App Functions
PianoRemote (iOS/Android)
PiaBookPlayer (iOS/Android)
Connector Jacks
Headphone
1 x 1/4″, 1 x 1/8″ Stereo jacks
MIDI
MIDI IN, MIDI OUT
Line Out
1 x 1/8″ Stereo [unbalanced]
Line In
1 x 1/8″ Stereo [unbalanced]
USB to Host
✔
USB to Device
✔
Others
USB for Update
Power Consumption
60 W
Power
Power cable
Bench
Fixed-height or height-adjustable bench *
Headphones
Headphone hook
Sheet Music
Classical Piano Collection *
Classical Lesson Scores *
Finger Exercises
Others
Warranty Card *
Owner's Manual
Internal Song Lists
* Depending on market location.Specifications are subject to change without notice.