Description
Kawai ES920
Expression
ES920 features one of the most celebrated actions we've ever made: Responsive Hammer III. With triple sensor key detection, counterweights, let-off simulation and many more features derived from 90 legendary years, ES920 is engineered by experts to make your fingers sing.
Tone
As versatile as you are, ES920 can reproduce our SK-EX, EX and SK-5 grands, plus dozens of legendary electric pianos, string, synths and other sounds.
Connectivity
With low latency aptX audio and MIDI over Bluetooth, WAV and MP3 recording and overdub to USB, line in/out and more, ES920 is ready for whatever you throw at it.
EQ
Find your place in the mix, regardless which sound you're using, right from the front panel with the included 4-band master EQ.
DIMENSIONS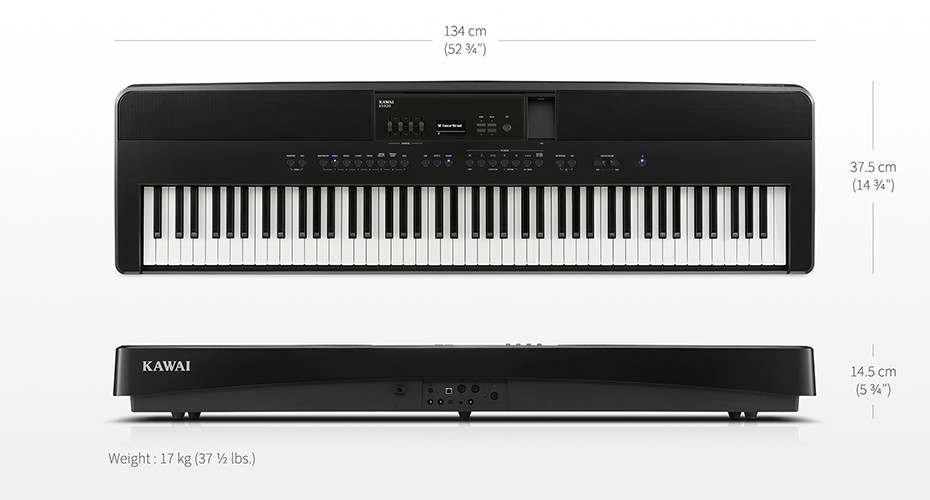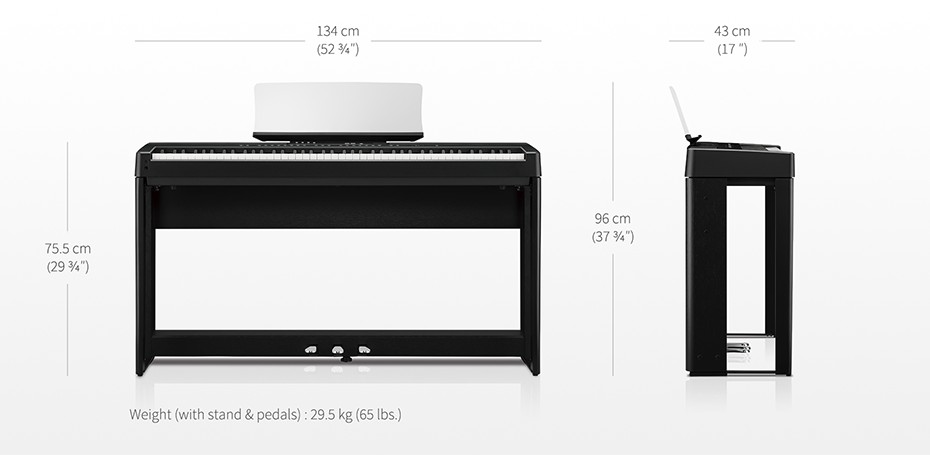 SPECIFICATIONS
Keyboard
・ Responsive Hammer III action
– 88 keys
– Grade-weighted hammers
– Ivory Touch white key surfaces
– Let-off simulation
– Triple sensor key detection
– Counterweights
Pedal
・ F-10H pedal unit
– Damper (with half-pedal support)
Piano Sound
・ Harmonic Imaging XL (HI-XL)
– 88-key stereo sampling
– SK-EX, SK-5, EX recording
– 256 note maximum polyphony
Piano Resonance
– Damper Resonance
– String Resonance
– Undamped String Resonance
– Cabinet Resonance

Piano Adjustment

・Virtual Technician (21 parameters)
– Touch Curve (incl. User Touch Curve)
– Voicing (incl. 88-key User Voicing)
– Damper Resonance
– Damper Noise
– String Resonance
– Undamped String Resonance
– Cabinet Resonance
– Key-off Effect
– Fall-back Noise
– Hammer Noise
– Hammer Delay
– Topboard Simulation
– Decay Time
– Release Time
– Minimum Touch
– Stretch Tuning (incl. 88-key User Tuning)
– Temperament (incl. User Temperament)
– Temperament Key
– Key Volume (incl. 88-key User Key Volume)
– Half-Pedal Adjust
– Soft Pedal Depth
No. of Sounds
38 voices
Reverb
6 types
Brilliance
✔
Other Effects
16 types + amp simulator (3 types)
Speakers
(8 x 12) cm x 2
Output Power
40 W (20 W × 2)
Headphone Enhancements
Spatial Headphone Sound
Headphone Type
Display
128 x 64 pixel OLED
Key Cover
–
Music Rest
Transparent, detachable type (included)
Dimensions
Width
134 cm (52 3/4″)
Depth
37.5 cm (14 3/4″)
Height
14.5 cm (5 3/4 ") [music rest detached]
Weight
17.0 kg (37 1/2 lbs.)
Available Finishes
Black (ES920B)
White (ES920W)
Basic Functions
Dual
Split
Four Hands
Transpose
Tuning
Registration
Startup Setting
Internal Songs
Sound Demo
25 sound demo songs
4 Main demo songs
2 Rhythm Section demo songs
Piano Music
–
Concert Magic
–
Lesson Songs
–
Internal Recorder
Total Memory
approximately 90,000 notes
No. of Songs
10 songs
Parts
2 parts
Metronome
Time Signatures
1/4, 2/4, 3/4, 4/4, 5/4, 3/8, 6/8, 7/8, 9/8, 12/8
Drum Rhythms
・ Rhythm Section
– 100 styles (x 2 variations)
– 4-part accompaniment select
– 100 preset chord sequences
– Chord mode: Full Keyboard, 1 Finger, Preset
– 'On Bass' chord detection
Bluetooth *
Bluetooth (Ver. 4.1; GATT compatible)
Bluetooth Low Energy MIDI Specification compliant
Bluetooth Audio with aptX support
USB Audio Recorder
Record/Playback
MP3
WAV
SMF
Other Functions
4-band EQ faders
Overdubbing
Line In recording
App Functions
PianoRemote (iOS/Android)
Connector Jacks
Headphone
2 x 1/4″ Stereo jacks
MIDI
MIDI IN, MIDI OUT
Line Out
1/4″ L/MONO, R [unbalanced]
Line In
1/8″ Stereo [unbalanced]
USB to Host
✔
USB to Device
✔
Others
Damper (for F-10H)
Damper/Soft/Sostenuto (for GFP-3)
Pedal (for F-302)
Speakers on/off switch
Power Consumption
18 W
Power
Power cable
AC adaptor (PS-154)
Bench
–
Headphones
–
Sheet Music
–
Others
Warranty card *
Owner's manual
Transparent music rest
F-10H damper pedal (with half-pedal support)
* Depending on market location.Specifications are subject to change without notice.