Description
An excellent introduction to Kawai digital piano quality
The KDP75 digital piano is the latest addition to Kawai's highly-respected range of award-winning home instruments, combining an authentic weighted-key keyboard action and realistic grand piano sounds within an attractive, yet highly affordable package.
Featuring 88 grade-weighted keys, the KDP75 keyboard responds like a real acoustic action, while its rich concert grand piano sounds are guaranteed to inspire and impress. The instrument also features USB-MID connectivity, built-in lesson pieces, and a convenient song recorder, making the KDP75 an ideal choice for beginners seeking a starter instrument, or more experienced players looking for a second piano for silent practise with headphones.
Touch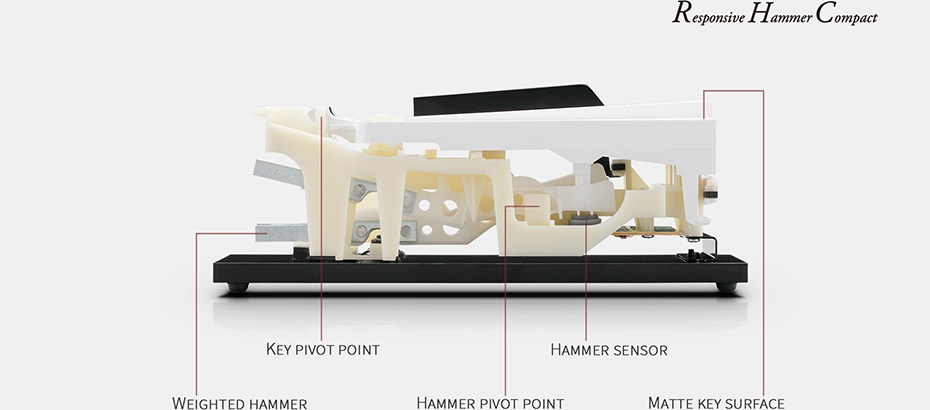 Realistic touch & motion: Responsive Hammer Compact keyboard action
The KDP75's Responsive Hammer Compact (RHC) keyboard action has been developed to represent the distinctive touch of an acoustic grand piano.  Based on the highly-regarded RH keyboard action design, its spring-less mechanism and sturdy construction delivers consistent upward and downward motion, while improved cushioning material helps to reduce keyboard noise, resulting in a smooth, natural, and highly authentic piano playing experience.
Acoustic piano key weighting
Just as acoustic pianos utilise heavier bass hammers and lighter treble hammers, the RHC keyboard action also employs different hammer weights, appropriately graded for each playing range.
Such details provide greater stability during fortissimo passages, while preserving delicate pianissimo control, to satisfy the demands of even the most discerning pianist.
Sound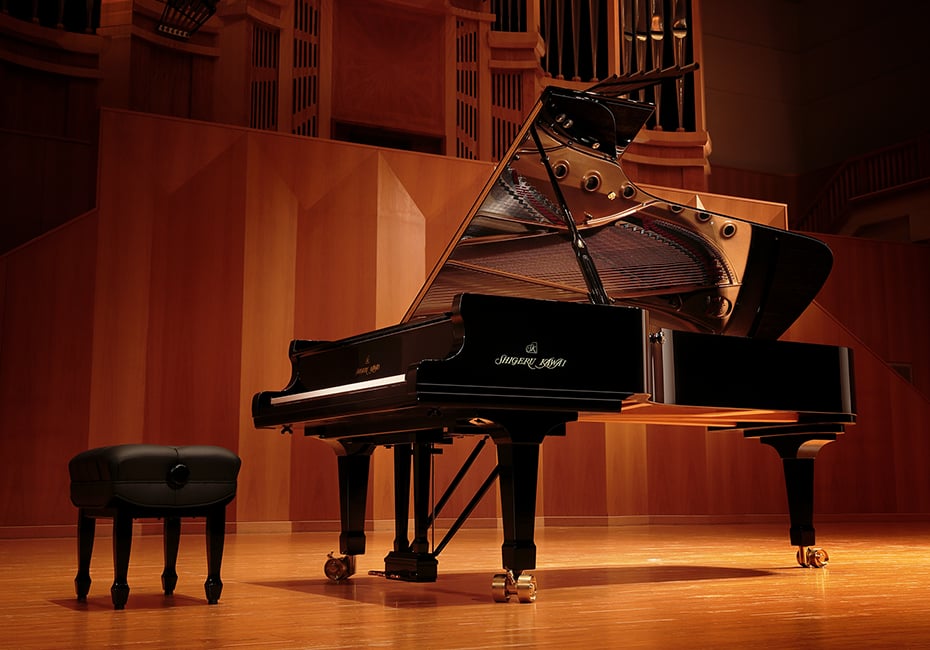 True character in every note
The KDP75 digital piano captures the beautiful sound of Kawai's highly acclaimed concert grand piano, with all 88 keys of this exceptional instrument meticulously recorded, analysed and faithfully reproduced using advanced Harmonic Imaging technology.
Recording each key individually in this way, preserves the rich harmonic character of the SK-EX concert grand piano, and guarantees that the sound heard when playing any one of the KDP75's weighted keys is a faithful representation of the original acoustic source
Harmonic Imaging technology
When playing a fine piano, the amount of pressure applied to the keyboard affects not only the volume of the sound produced, but also the unique tonal character of each note.  Therefore, in order to construct a realistic acoustic portrait of the SK-EX concert grand piano, not only is each key recorded individually, but also at various different volumes, ranging from gentle pianissimo to thunderous fortissimo.
The KDP75 offers a highly detailed acoustic portrait, employing Kawai's proprietary Harmonic Imaging sound technology to ensure smooth tonal transitions across the keyboard and throughout the entire dynamic range.
Realistic reverberation
The KDP75's powerful digital effects engine further enhances the instrument's core sounds, applying additional reverberation effects that simulate the acoustic environment of a recital room, live stage, or concert hall, bringing performances to life.
Impressive speaker system
(with Low Volume Balance feature)
The KDP75's stereo speaker system delivers an impressive 18W of output, providing enough power to fill a medium-sized room with it's beautiful Shigeru Kawai grand piano sounds.
Moreover, when playing through speakers at a reduced volume setting (so as not to disturb family members), the KDP75's Low Volume Balance feature intelligently adjusts keyboard touch and piano tone characteristics, allowing pianissimo passages to be played smoothly and more naturally.
The result is a rich, vibrant piano tone that delivers breathtaking realism and authenticity.
The Variety of a Digital Piano: Convenience & Flexibility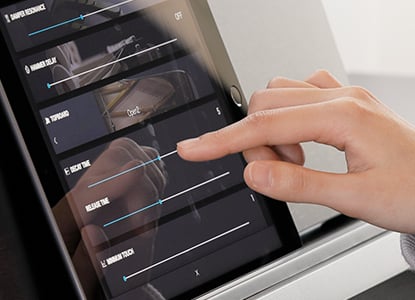 The elegant KDP75 also includes a variety of convenient digital functions to complement its authentic keyboard touch and rich grand piano sounds. A selection of different instrument voices, built-in lesson songs, and the ability to record and playback one's performance are just some of the features accessible from the discretely placed cheek-block control panel, while USB-MIDI functionality allows the instrument to be connected to computers and other devices with ease.
The KDP75 is compatible with Kawai's latest PianoRemote control app for iOS and supported Android devices. This app connects to the piano via the instrument's integrated USB-MIDI feature, providing an effortless way to change sounds, adjust settings, and enjoy the of built-in music content from an attractive user interface.
SPECIFICATIONS
Keyboard
・ Responsive Hammer Compact action
– 88 keys
– Grade-weighted hammers
– Matte key surfaces
Pedal
・ Kawai Triple Pedal System
– Damper (with half-pedal support)
– Soft
– Sostenuto
Piano Sound
・ Harmonic Imaging (HI)
– 88-key stereo sampling
– SK-EX recording
– 192 note maximum polyphony
Piano Resonance
– Damper Resonance

Piano Adjustment

・Virtual Technician (13 parameters, via PianoRemote app)
– Touch Curve
– Voicing
– Damper Resonance
– Hammer Delay
– Topboard Simulation
– Decay Time
– Release Time
– Minimum Touch
– Stretch Tuning
– Temperament
– Temperament Key
– Half-Pedal Point
– Soft Pedal Depth・Virtual Technician Smart Mode (10 presets)
No. of Sounds
15 voices
Reverb
6 types
Brilliance
✔
Other Effects
–
Speakers
(8 x 12 cm) x 2
Output Power
18 W (9 W × 2)
Headphone Enhancements
Spatial Headphone Sound
Headphone Type
Display
–
Key Cover
Sliding type
Music Rest
Collapsible type
Dimensions
Width
136 cm (53 1/2″)
Depth
40.5 cm (16″)
Height
85.5 cm (33 2/3″) [music rest flat]
Weight
36 kg (79 1/2 lbs.)
Available Finishes
Embossed Black (KDP75B)
Embossed White (KDP75W)
Basic Functions
Dual
Four Hands
Transpose
Tuning
Low Volume Balance
Internal Songs
Sound Demo
15 songs
Piano Music
–
Concert Magic
40 songs
Lesson Songs
Burgmüller 25 (25 Etudes Faciles, Opus 100)
Czerny 30 (Etudes de Mécanisme, Opus 849)
Beyer 106 (Vorschule im Klavierspiel, Opus 101)
Alfred's Basic Piano Library Lesson Book Level 1A
Alfred's Basic Piano Library Lesson Book Level 1B
Internal Recorder
Total Memory
approximately 10,000 notes
No. of Songs
3 songs
Parts
1 part
Metronome
Time Signatures
1/4, 2/4, 3/4, 4/4, 5/4, 3/8, 6/8
Drum Rhythms
–
Bluetooth *
–
USB Audio Recorder
Record/Playback
–
Other Functions
–
App Functions
PianoRemote (iOS/Android)
PiaBookPlayer (iOS/Android)
Connector Jacks
Headphone
1 x 1/4″, 1 x 1/8″ Stereo jacks
MIDI
USB-MIDI
Line Out
–
Line In
–
USB to Host
✔
USB to Device
–
Others
–
Power Consumption
7 W
Power
Power cable
AC adaptor (PS-129)
Bench
WB-10 *
Headphones
Headphone hook
Sheet Music
–
Others
Warranty Card *
Owner's Manual
* Depending on market location.Specifications are subject to change without notice.